FAQ
The purpose of this FAQ page is to outline and detail frequently asked questions that you may have.  If you don't see your question and answer listed on this page, please contact us at [email protected]
FAQ – Orders and Payment
Do I need a prescription to sign up or buy products?
No you don't.  Just get started by visiting our Shop Page Here!
What forms of payment do you accept?
We currently only accepting Interac E-transfer. Most Canadian financial institutions provide this service. http://www.interac.ca/en/interac-e-transfer-consumer.html
How do I send Interac E-Transfer
Log into your bank's online banking and navigate to Interac e-Transfer Send Money

Select the account you would like funds to be sent from

Add or select a contact and fill out the contact and email address that we provided you.

Type in the specified amount you are sending, along with the order number in the message box. (Order number is important)

Use the Security question and password we provide. This will ensure there is no delays.

If you have sent payment and there is no notification from your bank that it has been deposited within 24hrs.  There is an issue with your payment. Usually incorrect email or password is the culprit.
How long do I have to send payment after checkout?
Your order will be kept On Hold till we receive your E-transfer. If we do not receive your payment within 3 days, your order will be cancelled.
What is the minimum and maximum sizes for orders?
Yes, we have a $45 minimum order amount. Also $3000 is the most we can process per transaction through Interac. If you need more than this amount feel free to contact us and see if we are able to make other arrangements.
Where is my free 1/8th oz?
All first orders with new accounts that are over $100 with automatically packaged with your complimentary 1/8th. If you don't meet the $100 requirement. We will include 1 gram free of charge instead.
When will my order ship?
6am EST is the cut off time for orders to ship the same business day. Note that there may be an hour delay with Interac payments. Orders will not ship until payment has been processed. Any orders and payments processed after 6am EST will be shipped out the next business day.
How does the new referral system work?
Once you've setup an account with us, you'll automatically receive a referral code which you can find at the bottom of your account dashboard.
After someone makes a purchase through your referral link and after order is marked as completed on our end, you'll receive a coupon in your inbox.  You can now use this coupon to get $15 off toward your next purchase (min. $100 order amount)!
FAQ – Shipping and Handling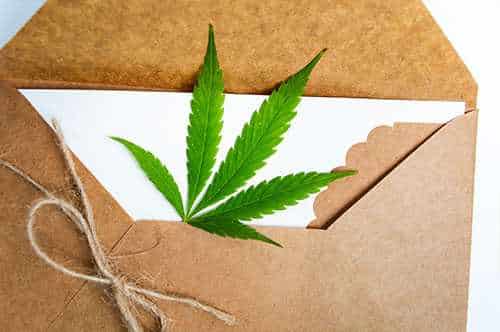 How much is the shipping fees?
Shipping fees are $14.99 for BC orders and $19.99 for orders made in any Province outside of BC. For orders $175 and more, the shipping is free.
How is my order packaged?
To maintain your privacy. Your order will be sealed and placed in non-descript boxes or containers. With no indications of the contents within.
How long will the order take to be delivered?
Orders take 1-3 business days. Delivery standards apply to items sent between most major urban centres and are estimates only. Actual delivery times depend on origin, destination, weather conditions and other factors. Everything is shipped with Xpresspost. Tracking information will be provided once everything is processed.
Do you ship internationally?
No we do not.
My package is late or I haven't received my order?
We ship orders promptly but sometimes there are delays with our courier. If you do not receive your order 2 days after the expected delivery date, email us and we will file a trace with Canada Post.
If a trace is filed, Canada Post will conduct an investigation (which can take 5 business days to complete). If they can locate the package, they will ship it to you and you'll get it a few days later. If it's deemed "unrecoverable", we will reimburse up to $100. This reimbursement will only be offered once in your accounts lifetime – we recommend adding in customer notes "request for a required signature upon delivery" to ensure theft is not an issue.
There are no refunds for transactions if late due to any postal issues.
If the re-sent package is lost or confiscated there will be no refunds
I received incorrect order?
If you are missing an item or the order is incorrect. Do not open any of the incorrect items. Contact [email protected] A representative will work with you to verify the missing or incorrect items.  
Tell me about your shipping guarantee?
We will resend at no cost to you the order again. Upwards to the amount of 100$.
If you choose the "sign for delivery option" that amount rises to $500. If packaged status says delivered or signed by Canada Post or tampered with due to mail theft.  We are not obligated to reimburse any missing deliveries.